On-demand advanced 3D point cloud services
tailormade for you.
On-demand advanced 3D point cloud services tailormade for you.
Combine 5 single Services into powerful data pipelines or choose the one(s) you need. We offer you the best Service along your 3D AI project and help you to bring it to life!
Take advantage of years of experience of the Supper & Supper GmbH which develops customized AI solutions based on the latest developments in neural networks and machine learning.
If you have a custom Use Case in mind you can inquire a solution tailored to your needs through Pointly Services.
Services combined into powerful data pipelines
Chris_DICREATE
2021-02-04T12:02:30+00:00
We created a BIM Model from photogrammetric point clouds with added area attributes for roofs and walls.
Chris_DICREATE
2021-02-04T12:03:21+00:00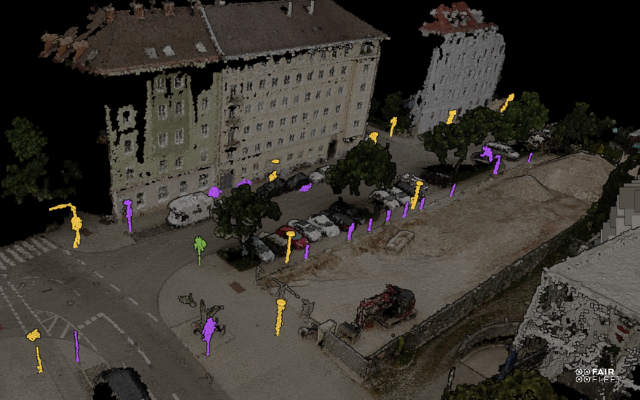 The goal is to detect street assets in point clouds and classify street signs to precisely map them into a GIS system.
Chris_DICREATE
2021-02-04T12:16:08+00:00
The goal was to provide exact tree point identification in the point cloud as well as individual tree separation with corresponding inventory data.
In cooperation with our Partner Network we offer data acquisition as the first step in an end-to-end pipeline
Order LiDAR and imagery-based scans of your physical assets anywhere in the world and process the data directly through Pointly's intelligent labeling tools and services.
Photogrammetry Processing
Do you use drone images to capture your assets and would like to turn them into point clouds?
In cooperation with our drone flight and photogrammetry partner we can offer you a fast point cloud generation pipeline.
Do you have already point clouds but would like to improve their data quality?
With our cloud powered processing pipelines we can offer denoising, registration and filtering for large amounts of point cloud data.
Do you need large amounts of point cloud data manually classified but would prefer to hire someone for the job?
In collaboration with our Labeling Service Provider, we provide access to a scalable and professional workforce that allows you to flexibly order labeling tasks.
Since the work will be done with Pointly's intelligent selection tools, you can expect to see results much faster!
Do you need your point clouds to be enriched with point classification information?
Automatic Point Cloud Classification
We can automatically classify the objects you want in your point clouds. We use our tool Pointly to firstly manually label the data and then proceed with creating an automated pipeline for you. The main goal will be to create standard detectors which you can use to classify new point clouds way faster than before.